As of July 1st the 2015 – 2016 cycle of the OptomCAS is officially open!
The time has come to put all your hard work and preparation to "paper" (really to the online application)! The Association of Schools and Colleges of Optometry (ASCO) uses the Optometry Centralized Application Service (OptomCAS) as the general web-based application to submit applications to the all optometry schools in the U.S. Keep in mind decision on admission comes completely from the schools and programs you are applying to and not from OptomCAS; they are only a service you submit your applications and transcripts through.

Although the OptomCAS cycle is open from now until June 2016 remember you'll need to meet
specific optometry program deadlines that you are applying to.
This means you must not only complete and submit the OptomCAS by those deadlines but also be sure to get in transcripts, letters of recommendation, and any secondary applications specific schools may require as well.
First you'll to create an account with OptomCAS here. You'll use you're the username and password you create to login, save, edit, and submit your application(s). Be sure to read all instructions carefully and to proofread everything you are submitting because this is surely not a task to take lightly!
Completely the OptomCAS costs $160 and that includes submitting your application to one school. Then it is an additional $60 for each school you choose to send your application to after that. So to add that up it'll look like this…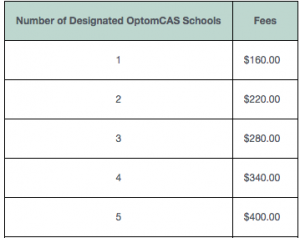 In addition, specific schools may include secondary applications resulting in secondary application fees. Plus considering possible expenses for traveling to different schools for visits and interviews, the whole application process can really add up so you'll want to really do your research to narrow down the programs you want to apply to!
With all the expense and stress of applying to optometry school, save yourself some trouble and check out OAT Cracker for you OAT prep and stay tuned to the blog for more topics on the application process like Personal Statement Writing just to name one awesome example!
That's all for now folks!
Happy Applying!