This is Part 1 of a series of breakdown posts that will outline the OAT 2017!
We've actually done a series like this before but the test has gone through some changes and here at OAT Cracker we like to keep you updated to make sure test day is the best day! First of all we'll focus on the specifics of the OAT itself and then in upcoming posts we will discuss each of the sections in detail individually.
The Optometry Admission Test is designed by the Association of Schools and Colleges of Optometry (ASCO) to assess your readiness for optometry school and is used by all U.S. programs in the application process as a factor in their decision.
The OAT 2017 is a monstrous marathon of an exam with a wide scope of testing topics and clocking in at nearly 5 hours!
What's an OATPIN?
First thing is first you'll need an OAT PIN (Personal Identification Number) for authentication for all Optometry Admission Test applications and official score report requests. Before you can even apply to take the OAT, you must obtain a PIN aka an OATPIN. Important: If you have ever taken the OAT before a PIN may have already been assigned to you and you can retrieve it here. If you are a brand new to the OAT entirely you can register for a PIN here.
Applying to take the OAT
With your OATPIN you can now apply to take the OAT here. Note: once you have been approved to take the exam you have a six-month window to do it after which you'll have to reapply. If you wish to retake the OAT you have to wait at least 90 days and if you feel the need to take it more than three times you have to gain special permission. Plus with each retake you'll have to reapply to take it and pay the test fee again. Speaking of test fee…
$ Cost of taking the OAT $
Currently the test fee is $450 and that includes sending official score reports to the up to 5 schools you specify on your OAT application. If you want your official OAT scores sent to an additional school you didn't list on the application it's $36 each. The $450 fee is non-refundable and non-transferrable so pick a date and stick to it! If you must reschedule, well more fees for you:

*Notice: The test fee changes as of July 1,2017 are now updated in this post!
Scheduling a test date
Once your OAT application is approved you'll receive email confirmation and only then can you schedule your test with Prometric. You can take the test year-round at Prometric Test Centers in your area. Prometric administers quite a few different computer-based tests like the OAT, GRE, MCAT, etc. and depending on the size of test centers, the day you wish to take the OAT can fill up so schedule ASAP!
What's on the OAT?
As mentioned earlier, there are four sections to the Optometry Admission Test and we will discuss each in detail in upcoming breakdown posts. There are as followed:
1) Survey of Natural Sciences (100 Questions)
2) Reading Comprehension (50 Questions)
3) Physics (40 Questions)
4) Quantitative Reasoning (40 Questions)
How long is the OAT?
Total test time is around 3.5 hours but there's an optional 15-minute tutorial (to get you familiar with using the test interface), an optional 15-minute break, and an optional 15-minute survey after the test, so could be closer to 5 hours. Here's the test schedule: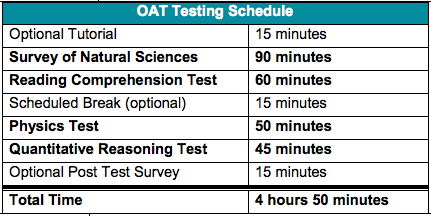 If you really need an additional break the timer on your test will not stop therefore try your best not! With proper practice practice practice and a goodnight's sleep you can handle no extra breaks in your OAT 2017 test day no problem.
Can I use scratch paper?
The test center will provide two note boards and two fine tip markers to use during the test. Scratch paper, pencils, or markers that have not been provided by the testing center are prohibited. The note boards cannot be used as measuring devices and cannot be folded, bent, distorted, or mutilated in any way and you can't touch the monitor during testing with the boards. All items must be returned to the test administrator before leaving the test center.
OAT Scores
We outlined the OAT Scores on the blog before so check it out!
Your scores are based on the number of correct responses, which means you're not penalized for guessing so that means don't leave any question blank! You will get an unofficial score as soon as you finish the test and official scores are available about 3 weeks later. OAT scores on made on a scale from 200-400 so there's no passing or failing. Some schools require a specific score for competitive consideration so be sure to check with them and aim high!
What's Next?
This breakdown to the OAT is really an outlined introduction the official ASCO OAT Guide that you should definitely check out in full here. Remember practice is key so keep on with OAT Cracker and check out some other pertinent OAT Cracker blog topics; for instance…
We will keep you updated and in the loop with any other future OAT 2017 changes. That's all for now!
Get out there, study up, and PRACTICE, PRACTICE, PRACTICE!