This is a BONUS addition to our series breaking down the Optometry Admissions Test.
      Be sure to check out the rest of the series on each section of the OAT in the blog!
A while back in own OAT Breakdown: Introduction Guide to the OAT we briefly talked on the subject of the scoring the OAT but now it gets its very own breakdown post to cover it all!
So let's get down to it, shall we?
During the test…
Quick Important Reminder: your scores are based on the number of correct responses and you are not penalized for incorrect answers. So…
Do Not Leave A Question Unanswered!
After you've exhausted 98% of the time allotted and the questions you do know are doubled checked, it's time for educated best guesses!
What is a "good" score?
The OAT is scored on a scale of 200 – 400 thus the 50th percentile is at a score of 300.
It's difficult to pinpoint a standardized "good" score because in the application process many components are in play along with your OAT scores. Perhaps instead it's wise to refer to the Association of Schools and Colleges of Optometry's (ASCO) Profile of the 2015 Optometry Entering Class here in PDF form. You can see the range of scores across the different optometry programs and decide based on all the information what a good score looks like for you specifically; accompanied by things like for example you GPA.
In the case of low scores…
Your OAT scores are only a part of the equation of your application. However according to OptomCAS data, schools consider the "OAT Influence" to be either "Significant" or "Moderate" so nobody's dismissing scores altogether.
If other portions of your application such as your GPA are very strong you can worry slightly less about not amazing OAT scores. For some perspective, the ASCO folks say the average GPA of the 2015 accepted and entering class of optometry students was 3.43 so if your scores hover around the median 300 I'd most definitely recommend a higher than average GPA.
Apply Early!
The earlier the better when applying with not-so-stellar OAT results. Some optometry programs accept applicants on a rolling basis (as they come in) so get in your apps early everyone and really definitely especially if you got lower scores.
Consider Retaking.
The blog already covered Retaking the OAT so if you're contemplating a redo read up on what you need to know.
Practice, Practice, Practice!
The endurance and stamina needed just to get through test day is going to take some getting used to. Practice tests like with OAT Cracker are not only helpful with in content tested but also in getting used to computer testing and exposing you to the time needed for your brain to last through the whole exam.
Once you've figured out the subjects you need extra help on tackle them! With the OAT Cracker diagnostic tests you can pin point specific areas in each section that you're weakest in. Then focus on those sections individually as seen below…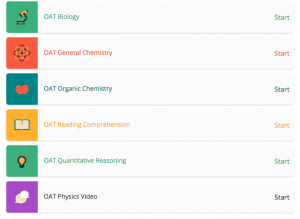 There you have it folks. Go forth & PRACTICE!
GOOD LUCK!