Question: Why did the phone wear glasses? …Because it lost all of its contacts!
**Pause for laughter and/or crickets**…so with that out of the way, we can get down to business.
Better Question: Did you know the OptomCAS officially opens July 1st? The Association of Schools and Colleges of Optometry (ASCO) uses the OptomCAS aka the Optometry Centralized Application Service as a general application when applying to Optometry schools and it allows you to use one application to apply to multiple of any of the 21 programs in the U.S. Basically unavoidable, so get to know it in and out because it's time to apply!

First thing's first, you'll need to create an OptomCAS Portal account here starting July 1st! OptomCAS allows optometry applicants to use a single web-based application and one set of materials to apply to multiple optometry schools and colleges. There are sections for your personal and contact information, academic history, a personal essay, and even your DAT scores but remember OptomCAS will not determine whether an applicant has met the optometry school or college requirements or is eligible for admission. That decision will be made by each respective school or college you send the application to. In addition to your OptomCAS application, some schools may require you to submit a supplemental application and an additional fee so read application instructions for each school carefully. Also be sure to check out the OptomCAS FAQ page, here.
When completely the OptomCAS there is a $155 application fee to apply to one school and then an additional $55 for each school after that. Here's a handy chart in figuring out cost of applying to several school, here. If you wanted to apply to all 21 programs in the country it was cost a whopping $1255, whoa. In fact, the whole application process can quickly become pretty expensive with taking the OAT, completely the OptomCAS, then individual schools secondary application fees, traveling to interviews, etc. so you want to do your research and narrow down the programs you really want to apply to.
With all this expense, here's a little secret to ease the load: Want to get 30 FREE days added onto your OAT Cracker account? Mention "OATCracker" on any forum, mention it in a blog, refer a friend, Facebook post to your pre-dental society, etc. and we will add 30 extra days to your account! Email us through our website (www.oatcracker.com) so we can help you out for your upcoming Optometry Admission Test. PLUS right now you can gain an edge on your OAT for only $49 instead of the regular $99. With all the stress of applying to optometry school don't let the OAT be one of them. Ace it with OAT Cracker! You see? These are the benefits of reading the blog and putting up the cheesy eye jokes, like so: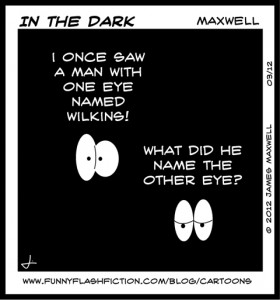 In review, applying to optometry school with the OptomCAS officially commences on July 1st and get 30 FREE days added to your OAT Cracker account to ace the admissions test!