This is part 4 of a series breaking down the Optometry Admission Test.
Definitely check out the rest of the series here on the blog to get the full lowdown on the OAT and get set up to dominate the exam! On the agenda today: Reading Comprehension, which will be the second section you run into come test day! Oh it's been a while since we had a bad/awesome joke so before we get into reading comp, here's the sad hipster…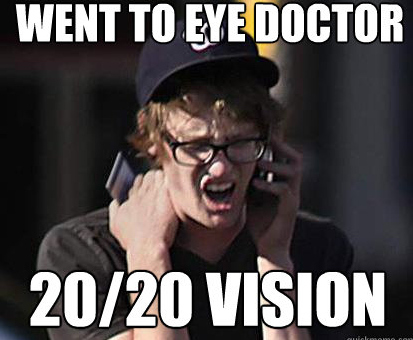 As the second section of the day that means you will have just finished the Natural Sciences section, which is the longest section of your test day, and it's before the scheduled break so you may be feeling slightly spent. Side note: check out the Natural Sciences Breakdown post here.
The official OAT description reads, "The Reading Comprehension Test contains three reading passages on various scientific topics. Prior understanding of the science topics is not a prerequisite to answering the test items. The reading passages require the ability to read, comprehend, and thoroughly analyze basic scientific information."
The passages are science-based written like articles and all the information needed will be in the passage. Like the description states, the OAT is testing how well you can comprehend and analyze the dense scientific information.
The Reading Comp section will have 3 passages, 40 questions, and is 50 minutes long.
Some student say the reading comp section is the hardest to study for, since you just read the passage and answer questions the day of the exam so how do you prepare? The answer is with practice! These are long and densely scientific passages and being able to read and breakdown them down efficiently is a skill you can hone! Possibly the most difficult part of the reading comp section is the limitation on time so practice with time restraints. With the time allotted of 50 minutes, you should be spending about 15 minutes on each passage. OAT Cracker can give you plenty of practice and psssst… you can get access for $49 instead of the regular $99 right now. You're welcome.
Stayed tuned for the continuation of the OAT breakdown series plus all things pre-optom!
Happy Practicing!